Mr Anamoo was relieved of his post as the GPHA Director-General in 2017 and asked to hand over to Kwaku Ofori Asiamah. Although no reasons were assigned for his dismissal, media houses reported in 2017 that his removal from office came four days after some aggrieved members of the Junior Staff Union (JSU) of the Takoradi Port and the Secretary of the JSU of the Tema Port accused him of corrupt deals in relation to the Tema and Takoradi ports expansion projects and abuse of office. Whilst addressing the press at a conference, the staff also called for him to be investigated.
The organisers of the press conference called for investigations into the ownership and directorship of the companies executing the local content aspects of the projects. Mr Anamoo at the time confirmed receiving communication concerning his dismissal.
"Yes, I received a letter asking me to hand over, although there are no assigned reasons. I have subsequently held meetings with my management and also communicated to the unions the decisions to relieve me of my post," he told Graphic Online.
NAPAIC-Ghana is of the view that investigating Mr Anamoo at the Office of the Special Prosecutor on the "huge allegations" and prosecuting him if found culpable will serve as a deterrent. Below is a copy of the petition dated 21st March, 2022.
PETITION AGAINST MR RICHARD ANAMOO (FORMER DIRECTOR-GENERAL OF THE GHANA PORTS AND HARBOURS AUTHORITY (GPHA) FOR ALLEGED CORRUPT DEALS WHILST IN OFFICE
The Daily Graphic reported about some accusations of corruption levelled against the former Director-General of the Ghana Ports and Harbours Authority (GPHA), Mr Richard Anamoo, on January 24, 2017. The media house also reported in same publication that Mr Anamoo was relieved of his post in the wake of those allegations.
We the members of the National Patriots against Injustice and Corruption Ghana (NAPAIC-Ghana) wish to state unequivocally that per the publication it is our opinion that the former Director-General should be investigated and if found culpable prosecuted.
Mr Anamoo is currently practising as a lawyer all over the country. We are of the opinion that the maxim that says "He who comes to equity must come with clean hands" should apply here. It is, therefore, proper for us to petition your high office to investigate Mr Anamoo and to prosecute him to serve as a deterrent. We believe it is not enough to release such an officer from office amid these huge allegations.
We will make ourselves available for any assistance your office may need from us. We are counting on you to treat this as a matter of urgency.
Sir, attached herewith is a photocopy of the Daily Graphic publication.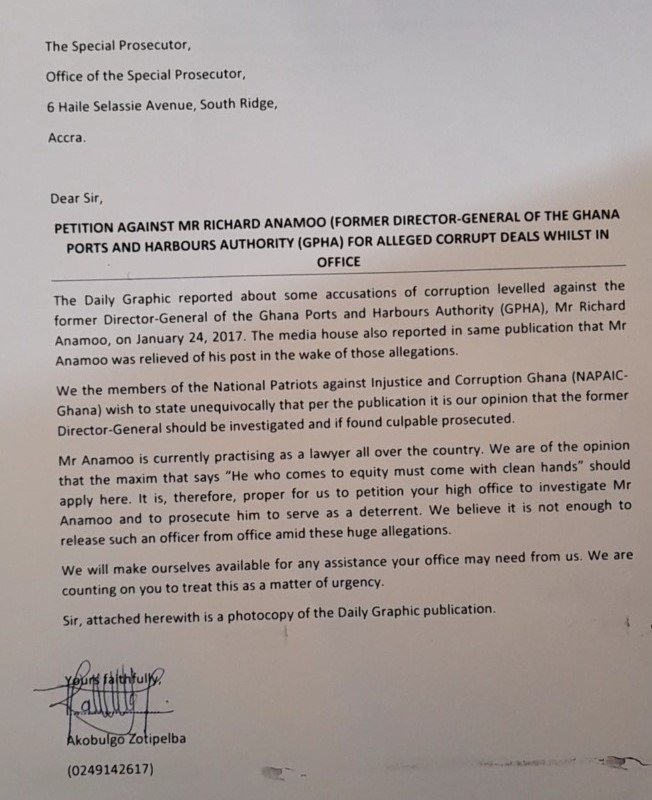 Source:Starrfm.com
Disclaimer: All news on this websiteare copied from other news sources. It is important to check the source to verify news.