France are resuming this morning after the French government agreed to ease its travel ban over Covid fears.
French citizens, British nationals living in France and hauliers are among those now able to travel – if they have a recent negative test.
Soldiers have joined NHS Test and Trace staff in Kent to carry out rapid tests on stranded lorry drivers.
Thousands of vehicles have been stuck there since the border shut on Sunday.
The travel ban was imposed on Sunday after the UK government warned of a new, fast-spreading variant of coronavirus and introduced strict tier four – "stay at home" – restrictions across large parts of southern and eastern England in response to a new variant of coronavirus.
The Netherlands and Belgium have also relaxed bans on arrivals from the UK, as long as they have a recent negative result.
But more than 50 other countries, including Italy, India and Pakistan, are continuing to block travellers from the UK.
But in order to travel, they will need to have received a negative test result less than 72 hours before departure.
However, the decisions may come too late for some French and Dutch nationals living in the UK to secure tests in time to get home for Christmas.
Communities Secretary Robert Jenrick told Sky News it would take "a few days" to test all the drivers before they can travel to France.
Eurotunnel said freight services between the UK and France were resuming at 07:00 GMT
The Channel is a vital trade route, with about 10,000 lorries a day travelling between Dover and Calais at Christmas, largely bringing in the freshest produce.
Supermarkets have been warning that the travel ban and subsequent delays at ports could see shortages of certain fresh foods, including lettuces and citrus fruits coming from the Continent.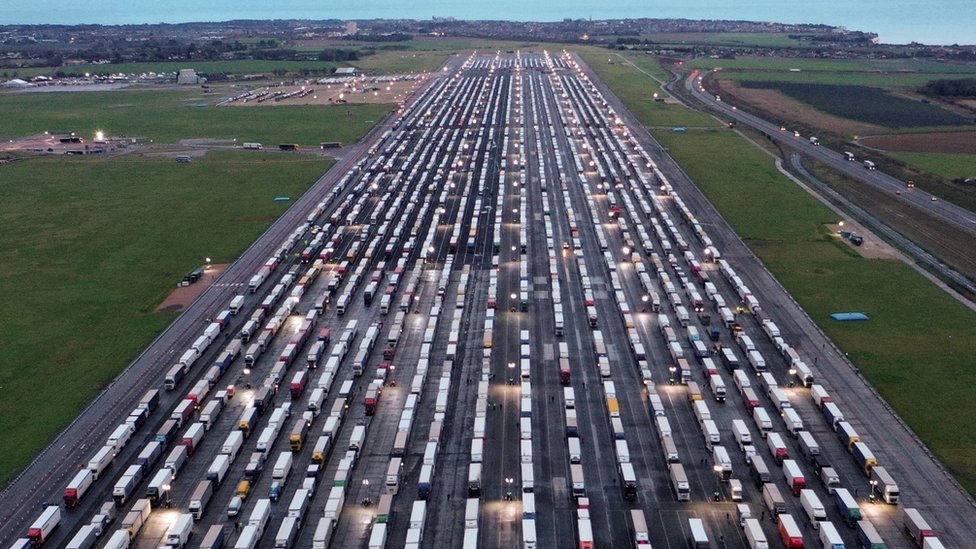 Under the new agreement with France, rapid "lateral flow" tests will be used, which can detect the new variant and work like a pregnancy test to give a result in about 30 minutes.
Freight drivers will receive their test result by text, and that message gives them the right to cross the Channel.
Testing will also take place on the French side for hauliers entering the UK.
A "protocol is still being finalised" to work out what to do with those drivers who test positive, a government source told the BBC.
The Netherlands has demanded UK arrivals use so-called PCR tests, which can take over 24 hours to turn around as they require a lab.
Elizabeth de Jong, policy director at business group Logistics UK, said its members were "relieved" to hear the border had reopened.
But she urged officials to set up Covid testing procedures quickly "to ensure divers can be processed and get home for Christmas safely".
The Road Haulage Association said: "Even if the border is opened up, a short delay in the process is going to mean huge delays in the supply chain."
Despite the easing of restrictions, UK Transport Secretary Grant Shapps warned hauliers against travelling to Kent until further notice to help alleviate congestion at its ports.
Copied from: BBC news
Disclaimer: All news on his website are copied from other news sources. It is important to check the source to verify the news.