The government has warned of "tougher measures" if people do not follow the latest coronavirus restrictions.
In a television broadcast on Tuesday night, Prime Minister Boris Johnson said "we must reserve the right to go further" if cases continue to rise.
Tighter restrictions were announced in all four UK nations. Mr Johnson warned they could last up to six months.
In England, people are being told to work from home if they can and rules on face coverings have been expanded.
Pubs, restaurants and other hospitality venues will have to close by 22:00 BST, and the number of people allowed at weddings has been halved.
Meanwhile, the fines for breaking the rules will also increase to £200 on the first offence.
Hospitality venues will also have to close early in Scotland and Wales – but Scotland has gone further, banning people from visiting other people's homes from Wednesday. Northern Ireland has also already banned households mixing indoors.
The government's chief medical adviser, Prof Chris Whitty, is understood to believe it is inevitable England will to have to follow Scotland's latest move, according to the Times.
Conservative MPs also expect limits on visits to households to be "the next step", according to Nicholas Watt, political editor of the BBC's Newsnight.
"They don't like it but they could probably live with it," he said, though he added that if the government went further with restrictions on the hospitality sector "that would really create insurrection on the Tory benches".
Mr Johnson will face further scrutiny from MPs in the House of Commons later during Prime Minister's Questions.
Defending the latest strategy, Foreign Secretary Dominic Raab said there was no "one silver bullet" but the range of measures introduced in England were "balanced, proportionate and targeted".
"Overwhelmingly the public have responded every time but increasingly there's been a small minority where compliance has frayed," he added.
He told BBC's Breakfast that if people follow all the measures – and no one thinks they are immune – "we will get through this and we will get to Christmas not in a national lockdown".
Mr Johnson's warning that stricter measures could follow comes six months after the UK's coronavirus lockdown – first announced on the 23 March – which saw strict curbs on life to tackle the spread of the virus.
People were told to only leave home for one of four reasons, including shopping for food and medicine, exercise, medical needs, and travelling to and from work "where absolutely necessary".
'Too many breaches'
In his pre-recorded address from Downing Street, Mr Johnson said he was "spiritually reluctant" to infringe on people's freedoms, "but unless we take action the risk is that we will have to go for tougher measures later, when the deaths have already mounted".
He added that while the vast majority have complied with the measures so far, "there have been too many breaches".
Former Labour home secretary Alan Johnson has since criticised the prime minister for suggesting the public is to blame for rising cases.
People have been "extremely compliant and obedient" but the message hasn't always been clear, he said.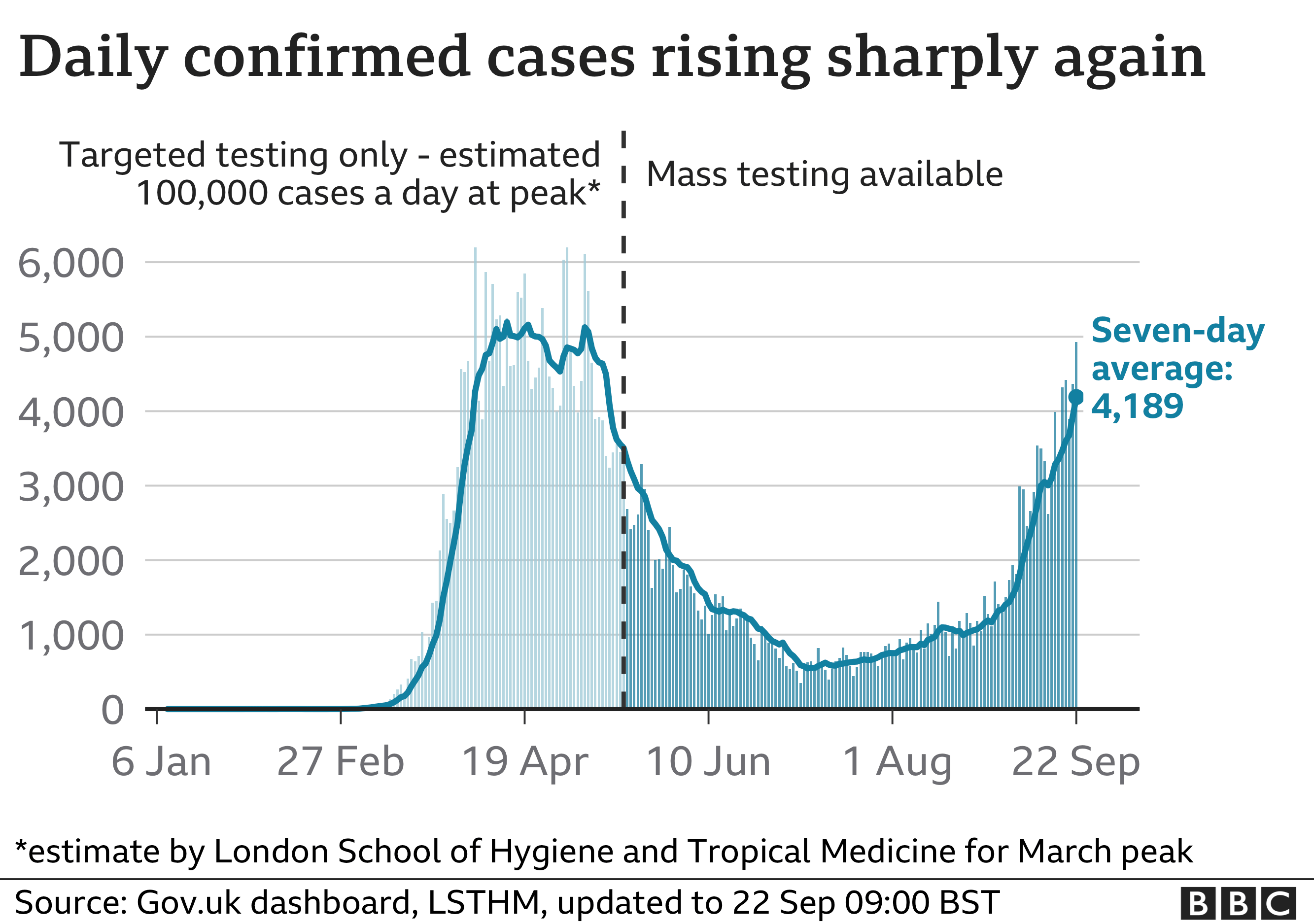 Meanwhile, former health secretary Jeremy Hunt has called for more "unifying messages" from the UK's four nations.
"Wherever possible it is much better to stick together, because simplicity of messaging is one of the things that will make the biggest difference in terms of complying with the rules," he said.
The devolved nations have their own powers over coronavirus restrictions, and their leaders made separate televised addresses on Tuesday evening.
Scotland's Deputy First Minister John Swinney acknowledged the new rules banning people from visiting other people's homes were "difficult and disruptive" and said they would be reviewed every three weeks.
"No one wants to have this in place a moment longer. The more public compliance, the more successful we will be," he told BBC's Breakfast.
Wales' First Minister Mark Drakeford urged people not to let the virus "take a hold of our lives again", and Northern Ireland's First Minister Arlene Foster said tougher restrictions should act as a "wake-up call" that "we are not out of the woods".
Copied from:BBC news
Disclaimer: All news on this website are copied from other news sources. It is important to check the source to verify the news.