Lebanese PM Hassan Diab has announced he is stepping down in wake of last week's deadly Beirut explosion. A number of ministers had already stepped down after mass protests against the government erupted in the country.
Health Minister Hamad Hassan told reporters at the end of a Cabinet meeting on Monday that Prime Minister Hassan Diab would head to the presidential palace to "hand over the resignation in the name of all the ministers."
"The whole government resigned," Hassan said.
The prime minister would formally announce the resignation of his government, he added.
The Lebanese government on Monday held a cabinet meeting amid mounting pressure to step down over the devastating explosion that killed more than 150 people in Beirut earlier this week.
Ministers step down amid growing public anger
Protesters and critics of the government have blamed corruption and poor leadership at the heart of Lebanon's government for the explosion.
At least nine members of parliament have resigned since the blasts with many more ministers wanting to resign, Reuters reported citing ministerial and political sources.
The cabinet was formed in January with the support of the Iran-backed Hezbollah group and its allies.
Snap elections 
Hours after the first protests rocked Beirut over the weekend, Prime Minister Hassan Diab vowed to hold early parliamentary elections as his embattled government faces calls to resign.
Diab said he would stay in government for another two months until major parties can reach an agreement.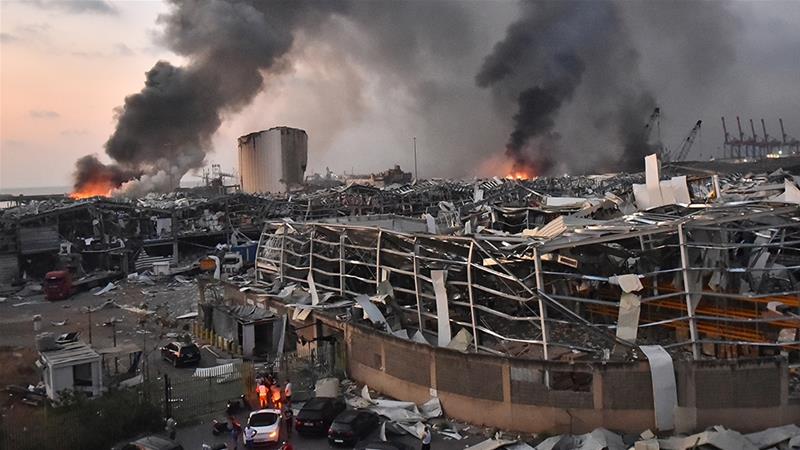 About 20 people have been detained over the explosion, including the head of Lebanon's customs department and his predecessor, and the chief of the port. Dozens more have been questioned, including two former Cabinet ministers, according to government officials.
Investigations into the blasts are focusing on how 2,750 tons of the extremely explosive ammonium nitrate chemical came to be stored at a warehouse in Beirut's port for six years.
Protests grip Beirut
Protesters clashed with riot police in Beirut and tried to break into a cordoned-off area at the parliament square on Sunday amid widespread anger over the massive explosion that killed at least 158 people earlier this week.
A fire broke out at the entrance to the square near the parliament building, according to footage shown by Lebanese television. Police fired tear gas to disperse the crowd.
Source: https://reportghana.com/lebanese-government-resigns-over-deadly-beirut-port-blast/