Military officers have ended a 48-hour takeover of Dome-Faase in the Greater Accra region where two uniformed men were brutally assaulted by civilians over a disputed parcel of land.
The soldiers left after retrieving guns ceased from the two during the assault.
Adom FM Correspondent, Seth Kofi Adjei, who visited the area on Thursday, August 27, said there was no presence of the heavily armed military who stormed the area in their hundreds.
This was after a meeting between the Municipal Chief Executive (MCE) and the military hierarchy in the community near Kasoa in the Ga South Municipality.
At least 300 armed military personnel and two helicopters were dispatched to the area after the incident on Tuesday.
The two weary and badly beaten soldiers were airlifted for treatment at the 37 Military Hospital in Accra.
Some youth had inflicted machete wounds and tore the uniforms of the officers in a humiliating fashion. They also set ablaze some vehicles belonging to the military on Tuesday, August 25.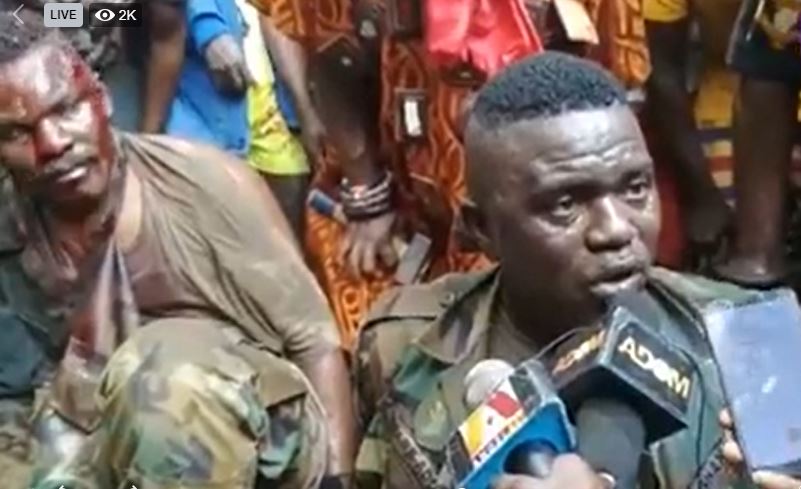 Over 50 residents were rounded after the men in the area ran from the community after hearing of military deployments.
The town is reported to have only women, aged and children, after the chaos left four people bloodied.
Some health workers were reportedly living in fear after the soldiers reportedly arrested some staff of the Obom Health Centre who were alleged to be part of the assault.
Adam Dramani, Administrator of the hospital said their staff have been depleted with many health officials refusing to report to work.
"Even if they are on duty they cannot even work because of the shooting. The shooting was all over. They broke some of their doors and went in to search for missing guns and they could not find anything. So, actually they have fear," he said.
Appealed to authorities to intervene as he complained about "old ladies being rounded up as well as small boys and girls".
Meanwhile, the chiefs in the area have apologised for the incident.
The Mankralo of the Obom Traditional Area, Nii Addo, begged the military to tamper justice with mercy.