In a post shared by Honaroble Kennedy Nyarko Osei on Thursday, 17th March 2022 he wrote;
"If I was to advise the government in taking some drastic measures, like I will recommend for the following social intervention programs to be suspended immediately and all monies pumped in other productive sectors of the economy and let's see what the impact will be.
1. suspend the FSHS
2. suspend the School feeding program
3. Suspend the teacher and nursing trainees allowances
4. suspend the PFJ
Since most Ghanaians are not appreciating the above interventions and are complaining about hardships, it will be very prudent for government to put those monies into other productive areas of the economy. The Akim Swedru, MP said.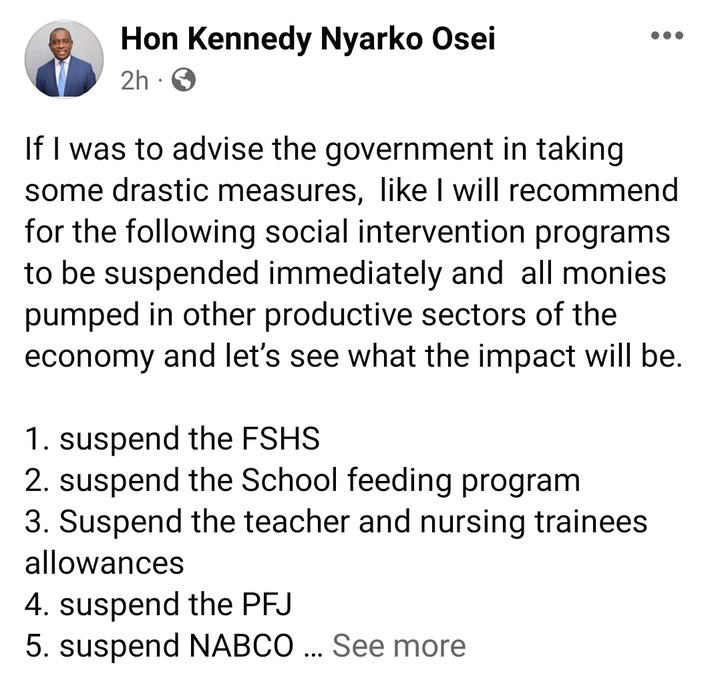 He continued that, Ghana can save about 5 – 6 billion if we decide to take the above actions and channel all this monies into other sectors of the economy.
Hon. Kennedy Nyarko further asserted that, Government can decide use half this amount to support the youth and the other half to support existing agro processing and domestic products manufacturing industries for the next 3 years and let's see the results.
The comments of Honorable Kennedy Nyarko Osei comes as a background to the several complians made by some Ghanaians about the current hardship in the economy. Recently prices of fuel and other commodities have rapidly surged up. Many people have called on the government to do something about it.