The other of the day on the part of Nana Addo Dankwah Akufo Addo is to carry his own chair to places he visited these days and then return home with his chair as well.
Upon out studies, Nana Addo Dankwah Akufo Addo has not ventured some region with his chair carrying methods including the Volta Region and Oti region.
With our studies, we have identified some few reasons which are going to prevent Nana Addo to Venture the Volta region his own chair.
The great works of Nana Addo Dankwah Akufo Addo are not refutable and with all these things, he always Carries his Chair to everywhere he goes.
What is really the secret behind all these Chairs he usually carries with himself everywhere he goes?
It is noted, Nana Addo Dankwah Akufo Addo is the first president of Ghana to have set this records of Chair carrying.
Great people are of the views that, the habit Of Chair carrying is a means to prevent coronavirus well if that is the case,why don't he also carry his table or microphone and always use the table and the Microphone of wherever he goes.
His was noted be with his Chair at Wontumi FM.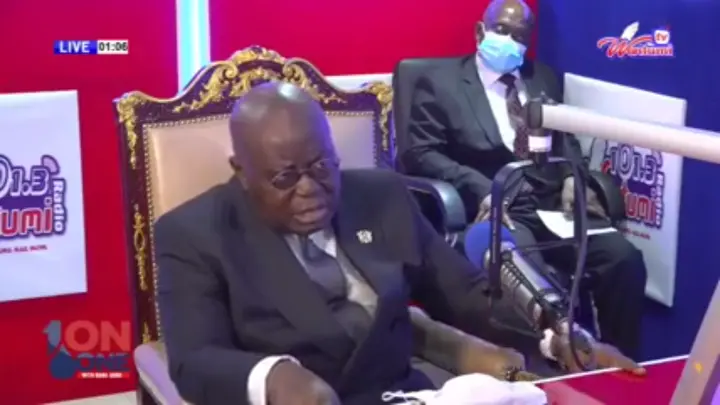 His visit to PAD FM 95.5 was one of the scenes which we can behold.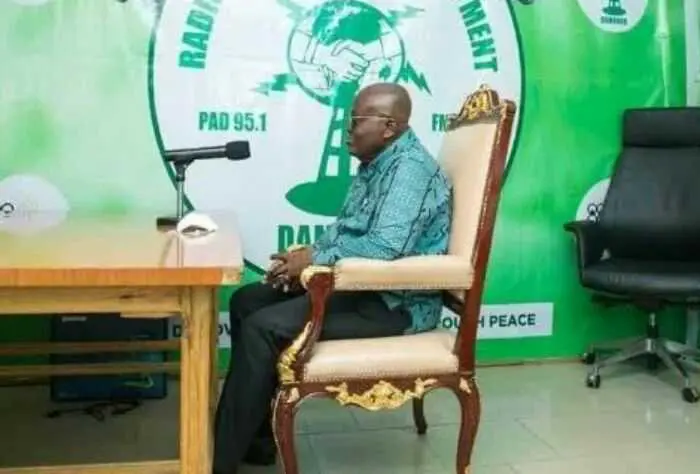 Finally in Power FM in Takoradi.
So, with our studies, we observed that the fear of the Ewe's has place this fear in Nana Addo to always carry his Chair but never will he attempt that on their land.
Just early before the voters' registration, it was noted that the people of Ewe greatly show up against Nana Addo for the unfair treatment he gave to them.
The main issue then arises when Nana Addo knew that, the land of Ewe happens to be a stronghold for the NDC and John Dramani Mahama.
Also, Nana Addo might fear that, the people will manipulate him when he Sits on other Chair since the people of Ewe are taged to powerful since great history has all the fact and it was noted that, one the great man of Ewe was drowned and came back sitting on the back of a crocodile.
With all these myths, Nana Addo fears serious Health issues might happen to him when he sat of any other Chair.
Furthermore, the fear of the Ewe's always makes Nana Addo to always carry his Chair everywhere he goes and fear he will carry the seat to that place because great men of Ewe might forcefully unseat him from his own chair but it will be normal when he sit on other peoples Chair when he visits there.
–Ghsplash